Summon Night: Swordcraft Story - Coziness Incarnate.
2/03/22
I feel like, as a child in a rather low-income household, my experience with emulators was pretty universal. Once I realized I could just download GBA games from the internet, some nights would be spent just trawling ROM websites, scanning the lists for any game that caught my eye, sometimes referencing the classic 'Best GBA games of all time lists' that still populate the internet to this day. Though those lists, I found such classics as Castlevania: Aria of Sorrow, Harvest Moon: Friends of Mineral Town, and Final Fantasy Tactics Advance; these are all games I'll take a look at in the future, but today we're taking at a game I've literally never heard before - one of those weird RPGs I downloaded on a whim; Summon Night: Swordcraft Story.
Well, to be exact, that game I stumbled upon was the sequel, Swordcraft Story 2, but that isn't as interesting in my opening paragraph, though I did beat the original first. But that's neither here nor there.
Swordcraft Story remains the epitome of a 'cozy RPG' for me. Game Boy Advance RPGs are unlike anything else in the gaming industry, now or then. They were, for the most part, these little, self-contained stories, with relatively simple battle mechanics and wackier stories you'd see less on mainline consoles and whatnot. Swordcraft Story fits that description to a T.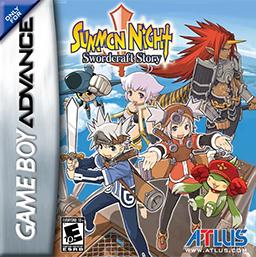 Oh bugger, I'll have to give you a quick rundown of the story this time, won't I?
Taking place in the nation of Wysteria, a nation of weapon crafters, you play as the child, a 'Craftknight' (think warrior blacksmith) of a deceased 'Craftlord' (one of the leaders of the nation), who takes part in a tournament of teenagers who are fighting for the chance to succeed your father, whilst dealing with a variety of situation the player seemingly has very little to do with. I'd go on a bit more, but…
Well, to be honest, the story in Swordcraft Story is kind of a mess. Not a bad mess - more like a really, really weird fever dream. You've basically got two storylines; your character progressing through the tournament, and a greater story involving enemy nations, ancient spirits, and a hell of a lot of backstabbing and betrayal. The player is joined by a Guardian Beast - pretty much a summon - the appearance and personality of which is chosen by the result of a basic personality quiz.
Each of these Guardian Beasts are completely different in personality and magic abilities, and I'd recommend either looking them up ahead of time, or saving just before the quiz to see your favorite. Trust me, you'll get a good idea of what they're like from the get go.

Now, back to the story. Whilst both of the game's main storylines are fine in principle, the fact is the dialogue in this game is really, REALLY weird. I'm not sure if it's just how this game is written, or if the localization had a part to play, but I just could not follow the flow of the dialogue at times. It frequently feels like characters are just talking at each other, rather than actually having anything resembling a conversation. It's kind of hilarious, but it also makes the story feel really hard to follow at times. There's all this stuff about enemy nations trying to take over, but I just never really found out why I had to care. The heart of the game is it's character interactions, which are chock full of non-sequiturs and comedic moments that genuinely had me laughing from time to time, ranging from helping a Craftlord do his shopping, to the endless amount of times my Guardian Beast flat out hit on my player character. I was never really quite sure what the hell was going on, but I didn't care - it's just dumb, cozy fun. In fact, the total amount of dialogue in this game is staggering - after every major 'day' of events, pretty much every NPC will have something new to say; it's probably not much of substance, but it's pretty cool they thought of people who are constantly going around, checking in on everyone. I did it for a while, and I got some genuine laughs from some of them. The ongoing saga of the kid who really wants curry, but cannot ever seem to get curry resonated with me a lot.
Because, y'know. I really, really love curry.
One of the game's more unique features is it's pseudo-relationship features. At the end of each in-game day, the player has a choice of spending a bit of time with one of their friends, or even their Guardian Beast. Based on whichever character you spend the most amount of time with, you'll get a unique, special ending between them.
This is a fun little system, and you can get a lot of mileage from this game if you want to see all the conversations, but it comes with one big caveat. In my playthrough, I visited Sanary, essentially the player's best friend, completely ignoring the other conversations. This was great, especially since I think Sanary is a well rounded, fleshed out character, but the problem is this causes the other characters of the game - most notably Varil, the player's rival, and Razzy, one of their other friends. Varil is built up as the player's big rival, but considering I barely spoke to the guy outside of a few story events, and their 'rivalry' this felt forced and pointless. Similarly, Razzy is built as a best buddy of the player, but you see even less of them then Varil. This issue is less of a problem when it comes to the others, since you see them more often, or in the case of the Guardian Beast, are constantly talking to them, but it's a shame. I genuinely love the characters in this game, but I don't love them so much to replay this 10~ hour game just to see a handful of character conversations. Just pick your favorite, then watch the rest on youtube, I say. It's a fun feature, but it could've been better thought out.
But Mitch, I hear you ask, what's the actual gameplay? Yeah, I get it. I really should open with the main gameplay loop, but I always go off, ranting about something else, don't I? Ah, well, you're here anyway, so you'll have to just bear with my stupid little mind.
Swordcraft Story, surprising no one, has a gameplay loop centered around the crafting of weapons. Beyond the RPG staple of leveling up from taking down opponents, the biggest form of progression in this game is centered on exploring the hundred-floor Labyrinth dungeon, collecting materials and forging weapons from five different weapon classes; Swords, Axes, Spears, Knuckles, and Drills.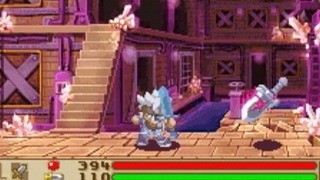 Each weapon has its own little moveset, and whilst I wouldn't call any of them complex, they all scratch their own itch.
When I was a kid, I went for axes, because I was an edgy little kid who thought power beat everything. Axes, in my opinion, knd of suck in this game, so this time I opted for a faster style of play, juggling between Swords, Drills, and Knuckles, and jumping between them really made the combat feel a little less monotonous. Combat itself is fairly cut and dry - it's an action-based, side scrolling encounter, where you face one or more opponents in quick succession. Seriously, if you've ever played an Action RPG, you'll have an idea of how this is going to go. It's not too difficult, sans a few bosses and a couple of late-game enemies, so as long as you keep upgrading those weapons, you'll be fine. I'm sure even from the images I've put around here that you've got an idea of how things play out.

Honestly, the crafting of weapons is my favorite part of the game, bar none.
There's just something awfully comfy about going back and forth, back and forth, grabbing materials in the Labyrinth, and then getting a chain of new techniques and upgrading your entire weapon catalog there and then. Honestly, making all the weapons was a mild obsession for me - it's just a shame a lot of them are tied to NPC side quests, which are never prompted to you, and really require a guide if you want to get all the weapons. Seriously, just read a guide for those. It's not fun having to hunt down just about every NPC just for a new weapon that may or may not be good.
Now, I want to underline this - I do not dislike the combat of this game, even if I'm gonna come off a little strong. Battles are fast and furious, the satisfaction that comes from annihilating a squad of enemies with a single Guardian Beast spell. I had my most fun using the Knuckles or Drills, deftly carving through them one by one with the former, or speaking them all with the latter. The biggest issue with the combat, sadly, is how repetitive it can get. Every time I went into the Labyrinth, I started in good spirits; fights were fun here and there, but the encounter rate of the game is just so goddamn high. You'll be running around the dungeon for less than fifteen seconds before the next squad of beasts are hot on your tail. The fights are fast, and they are engaging, but it just grows a little tiresome, especially in the postgame. There is an item that reduces encounters, but if you're avoiding or running away from every enemy, you'll be heavily underpowered in the last couple of fights, and you won't be able to use any of the really good equipment to buff your stats. It really would've been nice if they'd thrown in a spell from your Guardian Beast that reduces combat encounters or something, even if it was just a little bit.

Boss fights, though, are pretty fantastic across the board. There are two kinds - human opponents, equipped with their own, breakable weapons and Guardian Beasts, and giant Beasts, which are exactly what it says on the tin. They require a lot more thought and strategy then your average encounter, and are generally the big, bombastic fights I love in action-RPGs like this. I wish there were a handful more of them in the Labyrinth, since I always got excited the couple of times I ran into the bastards down in the depths.
Also, going back to the whole 'cozy feel' I mentioned earlier, Swordcraft Story almost epitomizes what I picture in my head when I think of a 'b-tier' Game Boy Advance RPG. The pixel art of the overworld is fantastic, conveying a lot of detail in the main towns you'll visit across the game, but the in-game battle artwork is stunning, though this isn't as surprising considering this came out towards the later years of the Game Boy Advance's lifespan. The snow town, Vale, has a theme that could put to sleep with how gentle it was, and this is a vibe that's spread across the entire game. It's comfortable and familiar, and I can't say enough nice things about it. The character designs are run-of-the-mill anime protagonists, nothing too out of left field, but they're all very cute, their personalities shining through immediately, besides the protagonist. They're cute, both of them, don't get me wrong, but they feel a lot more 'anime-anime', if you get my drift.
Now, this isn't super related to the rest of the review, but I just want to shout out the localization, or the base writing, or WHATEVER, because this game is queer as hell and I love it. I played as the female character, since I played as the male one all those years ago, and pretty much all of the innocent heterosexual flirting towards the player character from women is pretty much not altered at all. The Guardian Beast I picked, Sugar, is constantly trying to hit on and flat out marry the protagonist, regardless of gender, leading to such dialogue gems like this as the female character tries to not hurt Sugar's feelings.
Seriously, shout out to the writers AND the localizers. They went above and beyond for this weird little RPG.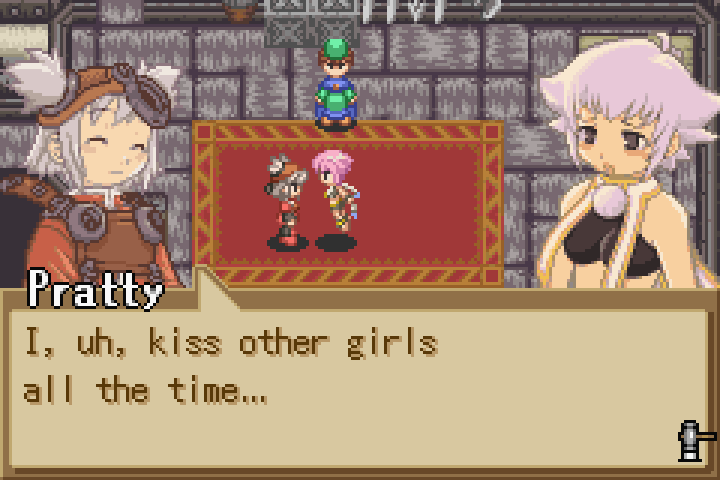 It's not a big deal in the grand scheme of things, but as a Known Bisexual, it makes me happy seeing the being unabashedly gay at times. And the fact that the sequel amps up those vibes by several orders of magnitude, but of course, that's a game for another day…
Summon Night: Swordcraft Story does not push the envelope for RPGs, especially on the Game Boy Advance. But that is not remotely a bad thing. Sometimes, in a time when a lot of games aren't living up to expectations, or you just can't find the game you want to play… it's important to go back to the familiar, relaxing titles you know you'll always click with. Summon Night: Swordcraft Story isn't remotely perfect, but it doesn't need to be; it brings me back to early days, over a decade ago, when I had such a sense of wonder with all the crazy games I had no idea existed. Swordcraft Story will always be special to me, and if you take anything from this review, I hope you give it a try… or go back to your own cozy, familiar game, and revel in the memories of a simpler time.
Thank you so much for reading! This game is a lot more special to me then I realized, so this one drawled on a little more than I expected. Either way, thank you! I expect my next review to be on Crash Bandicoot: The Huge Adventure, though there is a chance it'll be Hamtaro Ham-Ham Heartbreak, so look forward to that. You really, really have no idea how happy I am to play actually good games on this website. I blame my friends for playing thoses piles of shite earlier on. Again, thanks for reading!